As the word "Restore" suggests, this Microsoft SQL server error 3154 is associated with SQL Backup.  Even though SQL Administrators have vast experience in setting and regulating of SQL database and its backup, they get stuck when they experience SQL database error 3154 because this error is displayed when users try to restore SQL database (DB) from its backup.
Unless the cause and resolution method are known, this error can make the user think that the SQL database is lost forever, the reason being the only hope to restore lost database was this backup and BKF file also shows error.
Read on to resolve error 3154 in SQL with a suggested manual solution. Alternately use a reliable SQL database backup repair software like SQL Backup Recovery software of Stellar SQL Database Toolkit to repair the backup.
Let's figure out the reason behind the SQL Restore Database Error 3154
How does SQL Restore Database Error 3154 occur?
Trying to restore SQL database from backup of one SQL version to another SQL version, like SQL 2000 DB to SQL2005 DB.
After performing a backup of SQL 2000, the administrator creates a blank database by the name of ABC_Production in SQL2005, as ABC_Production was the name of the original database in SQL2000 instance.
The point is that the user has tried to assign the original name to the new database for secure restoration of SQL database from backup.
Once the original database has its recoverable backup, the user renames original database with a different name say ABC1_Production.
After the user renames original database, the names of database are as follows:
Name of Original Database: ABC1_Production
Name of New Database: ABC_Production
Name of Backup Databse: Test_Backup
Perform the following commands for restoration:
RESTORE DATABASE [ABC_Production] 
FILE = N'ABC_Production_dat', 
FILE = N'ABC_Production_log' 
FROM DISK = N'D:\Microsoft SQL Server (2000)\MSSQL\Backup\ABC_Production\ABC_Production_db_20XX07270206.BAK' 
WITH FILE = 1, 
NOUNLOAD, 
REPLACE, 
STATS = 10
GO

But after executing the commands, you get the following error:
Msg 3154, Level 16, State 4, Line 1
Even though the name of databases are initially same, the Create Database statement differs thus making the databases as two different databases thereby creating conflict and resulting in restore database is terminating abnormally error 3154 (30 ).         
Other Scenarios for restore database is terminating abnormally error 3154 (30) include:
For log shipping, multiple databases were configured
Transaction logs for databases were backed up to same folder
Once you know the cause of error, work to find the right solution:
Solution 1: Execute T-SQL Command
This solution consists of fixing the error with the help of T-SQL command, and if the error is not resolved with this command then the best way is to adopt the sure shot way to resolve SQL database error 3154 and deploy Stellar SQL Database Toolkit software. Steps for both these solutions are explained in detail below:
ALTER DATABASE ABC_Production
SET SINGLE_USER WITH
ROLLBACK IMMEDIATE
RESTORE DATABASE ABC_Production
FROM DISK = 'C\:BackupTest_Backup'
WITH MOVE 'AABC_Production_Data' TO 'C:\Data\datafile.mdf',
MOVE 'ABC_Production_Log' TO 'C:\Data\logfile.ldf',
REPLACE
In the above T-SQL command, 'RESTORE' command is replaced with 'REPLACE' command thus overwriting the backing up tail of SQL Database Log. Most 'WITH' Clause commands can be executed in combination with other commands. In the above script, change the Syntax and add 'REPLACE' along with 'WITH' Clause.
However, there is no surety that the SQL server error: 3154 resolves after executing these commands successfully. Reason being the T-SQL command is unable to fix the error in the backup file.
Solution 2: Use Stellar Phoenix SQL Backup Recovery of Stellar SQL Database Toolkit
Deploy and Open Toolkit and select SQL Backup Recovery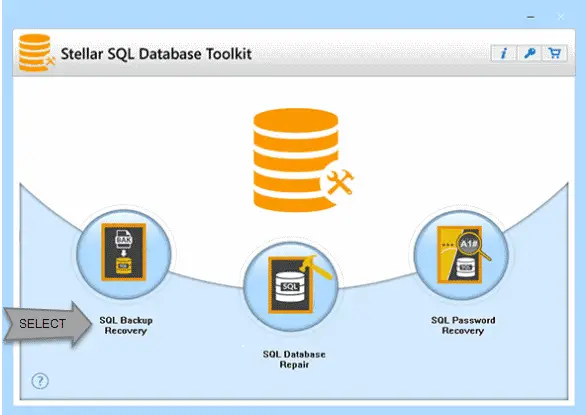 Select Backup File by clicking on Select File Option to Search File is also available in case the user is unaware of BKF file location. Select the Drive and locate the BKF file with ease
Click on Scan to start the scanning process
The scanned file components are shown on the screen in the left pane. Click on the displayed Database object to expand each element
A Log Report of recovered items is available below the scanned database. View and save Log Report to assess the components of recovered BKF file
Backup file is now free from SQL database error 3154. Register the software and click on Save button to save the repaired file at preferred location
Restore the recovered backup-database in the selected database
Conclusion
SQL database is not new as many organizations use it for an effective running and management of their crucial data.
However, like SQL database is not new as many organizations use it for an effective running and management of their crucial data. SQL server also gets affected due to an unexpected SQL server error. One of these is Microsoft SQL server error: 3154, which affects the SQL Database backup.
When backup gets corrupt, then the most feasible way to resolve error is to opt for Stellar SQL Database Toolkit.
he comprehensive toolkit consists of three different software which not only help to restore SQL database from corrupt backup but also help to repair SQL database and recover lost or forgotten SQL server password.
To sum up, SQL Administrators can use this toolkit to resolve the SQL Database backup issue of 'SQL database terminating abnormally, error 3154 in SQL' and almost all other SQL related problems in future.
References:
Stack Overflow: SQL Database Restore Error "3154"