Category: SQL Mathematical Functions
Use SQL  mathematical functions to perform business and engineering calculations.  Many of these aren't used in typical day-to-day operations; however, there are several commonly used functions we'll cover.
If you not familiar SQL functions, then I would recommend staring with the Introduction to SQL Server Built-In Functions.
All the examples for this lesson are based on Microsoft SQL Server Management Studio and the AdventureWorks2012 database.  You can get started using these free tools using my Guide Getting Started Using SQL Server.
Introduction to SQL Server's Mathematical Functions
There are many SQL mathematical functions within SQLServer at your disposal.  I would generally categorize them as the following:
Scientific and Trig Functions
Rounding Functions
Signs
Random Numbers
All of the functions are listed on this MSDN page.  I would recommend visiting that page to learn about each function.
Rather than reiterate that material, we'll focus on the functions I've seen in commonly used in business.
In the following table I categorized the functions and color coded them.  The color code corresponds to the likely hood you will use that particular function in a business environment:  Green are most likely used, and red less so.
This isn't a strict scale, and all functions are awesome (I'm an engineer and love math), but I wanted a way to help you winnow down the field to those most relevant.
Here is my attempt: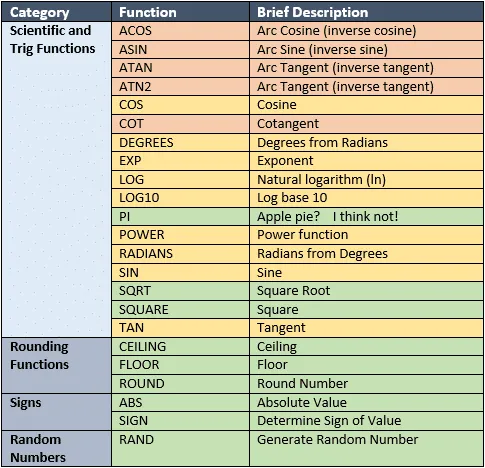 ---